News Sign In
eintragen /// aedrong
-

Einunddreißigton-Tasteninstrumente /// Thirty-One-Tone Keyboard Instruments /// Oanadraesskddoon-Ddassdninnsdrumenndde

A-CLAVITON A159
(2022, in da Veaggschdod- boed iss sovaed)



Fünfoktaviges Akustik-Claviton /
Five-octave acoustic Claviton /
Fimfoggddaafigs Akussdikk-Glaveddoon
-

M-CLAVITON C64
(2021)

Zweioktaviges Midi-Claviton /
Two-octave Midi-Claviton /
Dsvoaoggddaafigs Midi-Glaveddoon
- 3. Generation / Genaradseoon
-



c IfkE






E-CLAVITON A159
(2020)




Fünfoktaviges Elektro-Claviton /// Five-octave electric Claviton ///
Fimfoggddaafigs Eileggdro-Glaveddoon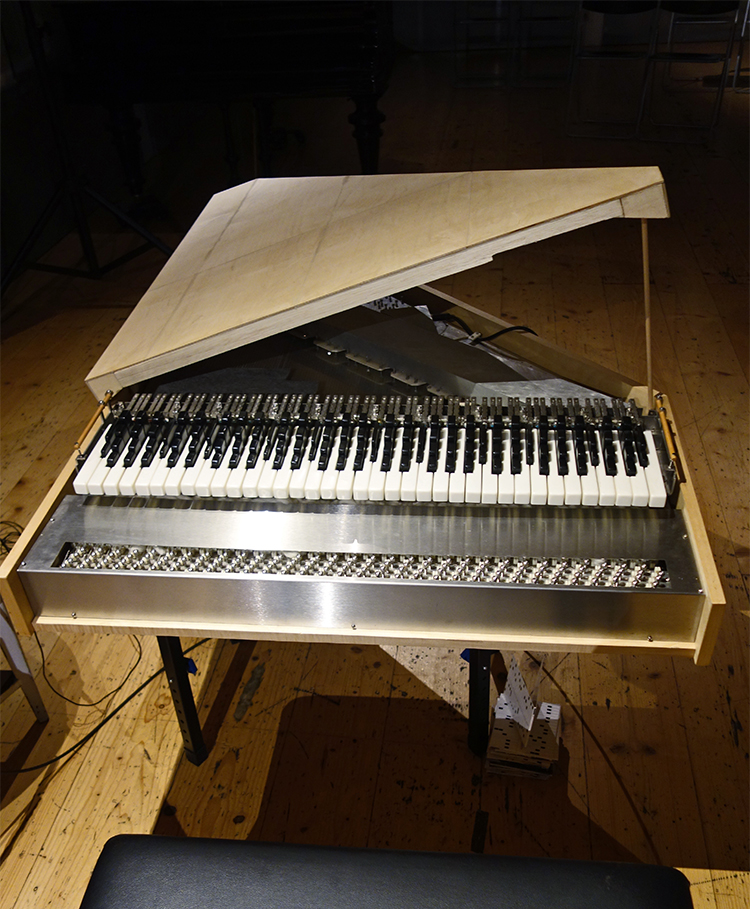 c IfkE



Detaillierte Präsentation in der letzten Ausgabe von ETP ///
Detailled presentation at the recent edition of ETP ///
Deddailliiadde Bresennddadseoon in da leddsdn Aosgop fo EDB



-






















M-CLAVITON B183
(2019)



2. M-Claviton Generation - Fünfoktaven-Ambitus mit gewichteter Tastatur /// 2nd Generation of M-Clavitons with a five octave range and weighted keys /// 2. M-Claviton Genaradseon - Fimfoggdaafm-Ammbeddus miid ana gvichchdadn Dassdaddua.
(2019)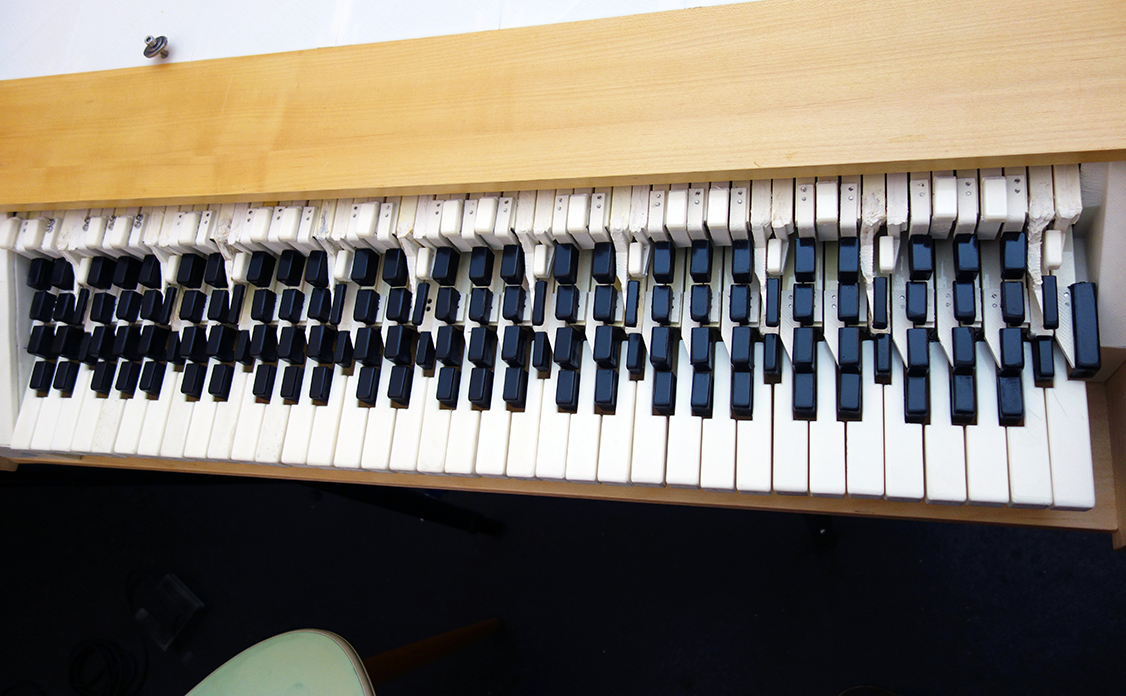 c GV
-

M-CLAVITON B147
(2019)


c GV

M-Clavitone B183 & B147:


c GV
-

M-CLAVITON A147
(2018)



c GV
-



Das M-Claviton ist ein von Georg Vogel gebautes Tasteninstrument mit 31+5 Tönen pro Oktave.
Die Tastenaufteilung orientiert sich and dem Prinzip der Unter- und Obertasten, wobei die letzteren mehrfach unterteilt sind. Die Aufteilung folgt der viertelkomma-mitteltönigen Reinterzstimmung bis zur Überlappung der # & b Quinten-Kette
ab a## und gbb.
/ // / / // / // / / // / / // / // / / // / / // / // / /
S M-Claviton iis a fom Georg Vogel naechbaods Dassdninsdrumennt miidam oanadraesskfochchng Ddoonfoarroot bbro Oggddaaf. De Dassdadduua kummd fo da 1/4-Komma mesoddoonischschn Gvinntkeddn biis gbb aof da b- biis a## aofda Graedssaeddn.




/ // / / // / // / / // / / // / // / / // / / // / // / //
The M-Claviton is a 31+5 tone per octave keyboard built by Georg Vogel. The key-board-layout is organised using white and accidental keys. The black keyrows are sub-divided based on the quarter comma meantone temperament, overlapping the sharps and flats chain of fifth from a## & gbb onwards.


c Georg Vogel







INSTRUMENTARIUM @
D S I L T O N

2021: E-Claviton 159, M-Claviton 183, M-Claviton 147B, Rhodes




c gv
-

2019: M-Claviton 183, M-Claviton 147B, Clavinet




-

2018 III: M-Claviton 147, Midi-Keyboard, Clavinet






2018 II: M-Claviton 147, Kawai MP4, Clavinet




2018 I: M-Claviton 147, Clavinet, Rhodes, Kawai MP4, Flügel


c gv




Clavinet: 7-Limit Reinstimmung
Kawai MP4: 24-max 27. aus 31ET & 7-Limit Reinstimmung.
M-Claviton 147: 31ET



c gv - M-Claviton 147A & 8 string
31-tone guitar (David Dornig)
-




Stimmungskonzept für Zwölftasten-Instrumente ////// Tuning concept
for twelfe-keyed instruments /////

31ET FLÜGELSTIMMUNG /// 31ET PIANOTUNING Dsilton & Solo-Piano am /// at moers festival

von der CD // from the CD // foda CD:
GEORG VOGEL SOLO PIANO
live at moers festival (2018)




Georg Vogel: Klavier in 31ET
-

////// ÜBER DIE EINZELNEN STIMMUNGEN //////
////// ABOUT THE TUNINGS //////
////// WIA GSCHDIMMD WEAHD //////

TUNING THE NOTES OF THE PIECE DSILTON BY EAR

Excerpt of the recital of the ensemble Dsilton at the symposium "Microtones - Small Is Beautiful" of Ekmelic Music Societyin Salzburg, June 30. 2017.
////////////////////////////////////////////////////////////
Auszug aus dem Vortrag von Dsilton am Symposium "Microtones - Small Is Beautiful" der Ekmelic Music Society in Salzburg, 30. Juni 2017.
> Stimmung der Tongruppierung des Stücks Dsilton nach Gehör (engl.)
/////////////////////////////////////////////////////////////
> De Dsilton Toungrubbm nochng Gehea schdimma (engl.)
Ofong fom Foadrog fo Dsilton am Symposium "Microtones - Small Is Beautiful" - Ekmelic Music Society
in Soedsbuak, 30. Juni 2017




(2017)
-

////// Vor dem M-Claviton //////
////// Prior to the M-Claviton//////
////// Foam M-Claviton //////

Über die Umsetzung der Kompositionen von David Dornig auf
enharmonisch gestimmten zwölftastigen Instrumenten
FINKOSTAR & PRISMASCHATTEN AUF RHODES UND MP4





(2017)

0,4 mb herunterladen //// download //// owahoen
-

2017: v/f.o.n.u.: Kawai MP4, Clavinet, Rhodes


c gv

2016: v/f.o.n.u.: Kawai MP4, Clavinet, Clavinet


c Marie Jecel
-
Der enharmonische Tonvorrat ist auf den verwendeten zwölftastigen Instrumenten unterschiedlich verteilt. Oktavenweise unterschiedlich bei Clavinetten und Rhodes und einheitlich bei dem 24-tönig programmierten Digitalpiano.
/////////////////////////////////////////////////////////////
On the twelve-keyed instruments the enharmonic notes are tuned in various ways: octav-wise unequally at the clavinets & the rhodes and identically at the 24-note programmed digital piano.
/////////////////////////////////////////////////////////////
Da enamoonischsche Ddoonfoarod is aof de dsveifddassdigng Insdrumenndde aof mearane Oaddn aofdaed. Fiar a iede Oggdaaf onndassd baem Glavenedd & Rouds und in olle Oggdaafm glaech baem 24-Ddoon brogrammiadn Digeddaalbbeaano.
-


c IfkE







c IfkE



E-CLAVITON RECITAL
Georg Vogel live @ Erbsenfabrik, Turnhalle 2020



E-Claviton Premiere /// Eileggdro-Glaveddoon Bbremieea



SEMMBBAE (Georg Vogel)








IWAN BAANAS II (Georg Vogel)

Vierhändiges Arrangement der sechstimmigen Komposition - mit dem M-Claviton 183 als digitales Hammerklavier in einer Bauweise von Sieben Oktaven, Holzkorpus mit Metallverstrebungen, paraleller Saitenbespannung, Prellmechanik mit Filzhämmern, 2,65m Länge, 3-4t Zugkraft.... /// Four-handed arrangement of the six-part piece - using the M-Claviton as a digital Hammerklavier showing a compass of seven octaves, wooden corpus with metal braces, paralel stringing, felt hammers, 2,65m length, 3-4t tension... /// Fiiahenndiggs Araschmoo foda seggsschdimmigng Kommbosedseon - mim M-Claviton oesam digidaaln Hommaglawiia inana Baooadd fo siim Oggdaafm, Hoeddskoabbus miid Meddoefaschdreebungan, baralella Saeddnbeschbonnung, Brellmechaanik miid Fiidshemma, 2,65m long, 3-4t Dsuuk...


-

M-CLAVITON RECITAL 
Georg Vogel live @ MicroFest Huygens-Fokker Foundation Amsterdam 2019


-

M-CLAVITON RECITAL
Georg Vogel live @ RKH Wien 2019




Präsentationskonzert des M-Clavitons 183 mit simuliertem Hammerklavierklang in variierenden Bauweisen, von Leichtbauart mit verbundener hoher klanglicher Brillianz und geringer Korpusmasse und Zugspannung und entsprechender Mechanik in verschiedenen Abstufungen bis hin zur Massivität eines Konzertflügels, bezugnehmend auf Instrumentenmodelle saitenanhämmernder Klaviere in dem Zeitraum von etwa 1790 bis 1890.
///
Bresenndadseonskonndseadd fum M-Claviton Hunndaddraeadochchdsk miidam simuliadn Hommaglawiaglongng in wareiarennde Baowaesn, fo Laechtbaooat miid houa glongnglichcha Brilliannds und kloana Koabbusmassn und Dsuukschbonnungk und entschbrechchenda Mehaanik in faschiidane Obschduufungen biis dsuaana Massiwedeet foam Konndseatfliigl miidam Konneggs dsu Innsdrumenndnmodelle fo saeddnonhemmande Glawiare im Dsaedraom fo dsiagga 1790 biis 1890.
///
Presentation-concert of the M-Claviton 183 with simulated hammerclavier sounds of variing types- from light connected with brilliant tones and low mass & tension and corresponding action in various levels to the massiveness of a concert grand piano. Modelled stringed piano instruments of the period 1790-1890 are used.




-

M-CLAVITON RECITAL 
Georg Vogel live @ openmusic Graz 2019 -

en-zug (Georg Vogel)

Zweistimmiger Ausschnitt des enharmonischen Rearrangement von Zug; in Vorbereitung für den zweiten Tonträger von Dsilton /// Two-part excerpt of the enharmonic rearrangement of the piece Zug; preparing for Dsilton´s second Album /// Dswoaschdimmiga Aosschnid fum enamoonischschn Rearaschmoo fo Zug; in Foaberaeddung fian dswaeddn Doundreega fo Dsilton.

georgvogel.net/PROJEKTE-DSILTON.htm, YOUTUBE FACEBOOK