2022
2021
2020
2019
2018
-2017


19. 12. 2019
GEOGEMA
Ö1 Radiosession 20. Mai 2020



c Grgur Savic
-

14. 12. 2019
M-CLAVITON SOLO
Solos & Duos von / by / fo
Elisabeth Harnik, Christof Kurzmann (Veronika Mayer ist erkrankt)
& Georg Vogel
20:00 Uhr, 8 PM, Ochchde aoffd Nochcht
Wist, Graz
www.openmusic.com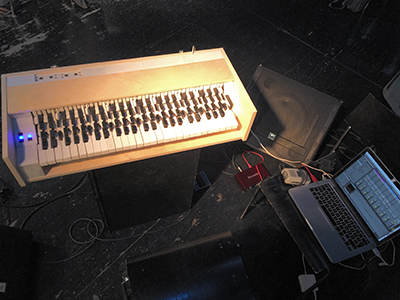 -

13. 12. 2019
FLOWER
Porgy & Bess Wien
20:30 Uhr, 8:30 PM, Hoewa Naene
www.porgy.at



-

11. 12. 2019
GEORG VOGEL, ROBIN GADERMAIER & MATHEUS JARDIM
public-session
20:00 Uhr, 8 PM, Ochchde aoffd Nochcht
-

10. 12. 2019
PIANO SOLO
Salzburger Kunstpreisverleihungsgala
Carabinierisaal, Residenz Salzburg





Jahresstipendiumspreisverleihung


-

5. 12. 2019
FRANZ HAUTZINGER,
GEORG VOGEL &
THOMAS STEMPKOWSKI
Quantenkammer
Siebensterngasse 32-34, Wien
(Eingang durch die offene Einfahrt, im ersten Hof rechts)
Einlass 19:00 Uhr, Beginn 19:30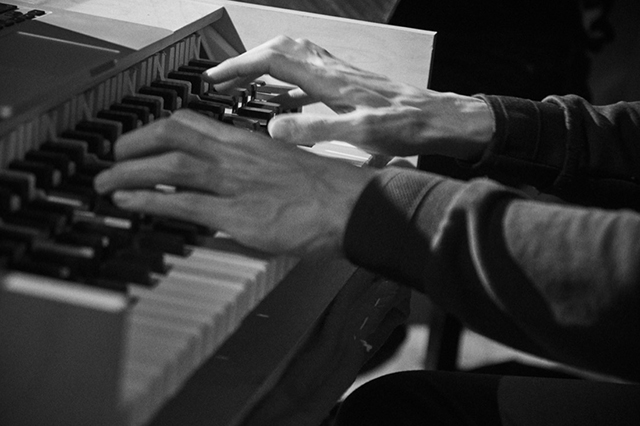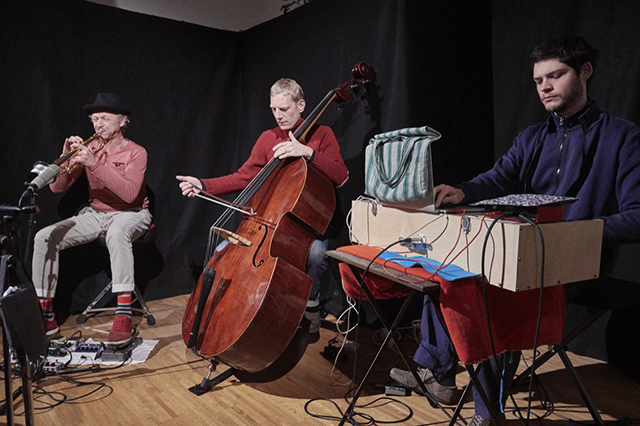 c Eckhart Derschmidt

-
1. 12. 2019
M-CLAVITON SOLO
Lecture-Recital @
MicroFest Amsterdam 2019
http://www.huygens-fokker.org/activities/microfest2019.html
by the Huygens-Fokker Fd.
Muziekgebouw, Kleine Zaal
16:30 Uhr, 4:30 PM, Hoewa Fimmfe




Presentation of music in 31-EDO on the M-Claviton, a split sharps 31-tone keyboard built by Georg Vogel.
It features pieces of the recent solo album and new works consisting of expanded tetrachord based diatonicism, multiple twelve note selections, chord based harmonies with enharmonically changed intonations and various frames for improvisation in 31 equal temperament as well as an overview of the instrument and its keyboard layout. ///
Bresenndadseon fo Muse in 31EDO aofm M-Claviton, a Dassdninnsdrumennt miid subdividiade Owadassdn naechbaod fum Georg Vogel.
Gschbiid weand Schdiggin foda leddsdn Solobloddn undaa naechare dsommgseddsd aos Deetrakoad-Diadounik, mearane Dsweifdoun-Seleggsdseonen, Akkoadbasiadde Haamoonik miid enhamoonisch fadaoschschda Inndonadseon und faschiidane Romenbedingngungen fia Immbrowisadseon in 31EDO undaa a Iwasichchd iwas Innsdrumennt und sae Dassdadua.



Program:
Utes Reges Mides, Feddy Föhl, Ferry Fahrsept, en-zug & Lill
by Georg Vogel



c gv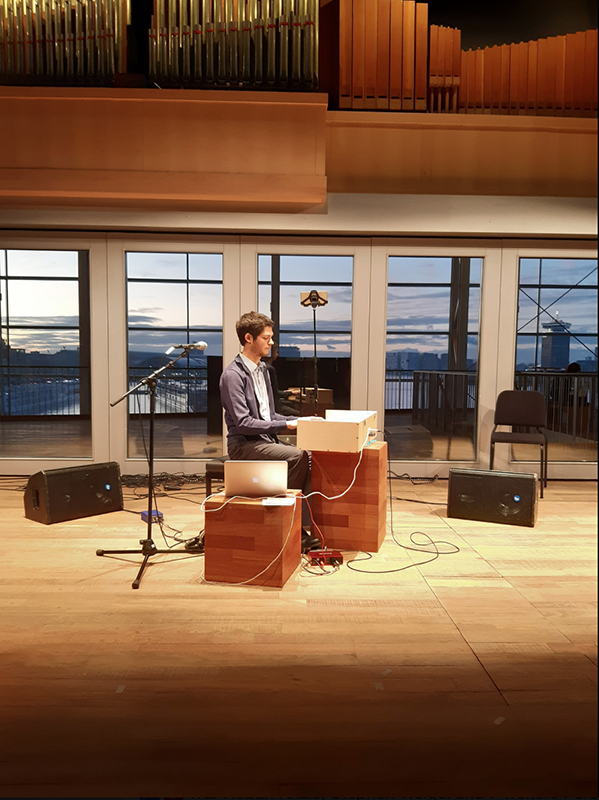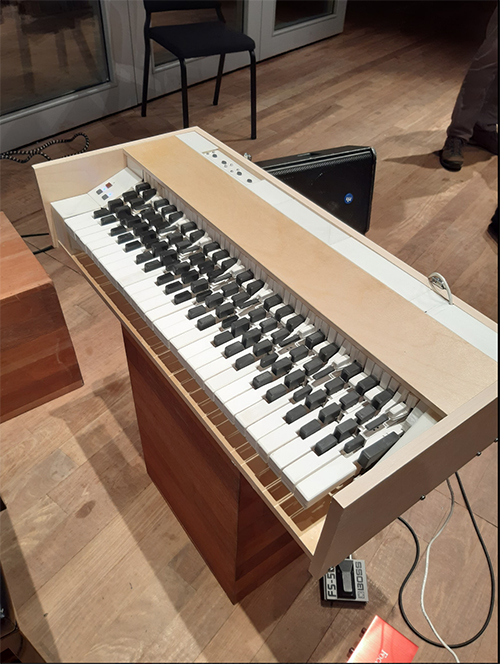 c Joke Kegel



,Feddy Foehel '



c Paul Erlich



-

14. 11. 2019
DSILTON
Georg Vogel: M-Claviton, Clavinet
David Dornig: 31-Ton Gitarre / 31-tone guitar / 31-Ton Giddaa
Schlagzeug / drumset / Dsaegl
Blue Tomato / Blaoa Baradaesa
Wien / Vienna / Wean
Wurmsergasse 21
www.bluetomato.cc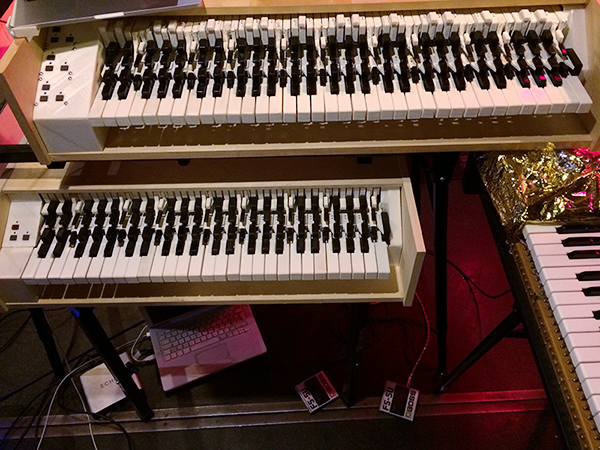 c gv
-

13. 11. 2019
ANDREAS LETTNER &
GEORG VOGEL
rhiz, Wien / Vienna / Wean

6. 11. 2019
TOBIAS MEISSL, GEORG VOGEL
& VALENTIN DUIT
public, Wien / Vienna / Wean
Hofmühlgasse 11
20:00 Uhr, 8 PM, Ochchde aoffd Nochcht
+ Session
-

28. 10. 2019
TREE
Georg Vogel: Klavier, piano, Glawia
Andreas Waelti: Kontrabass, bass
Michael Prowaznik: Schlagzeug, Dsaegl
20:00 Uhr, 8 PM, Ochchde aoffd Nochcht
Stockwerk, Graz
www.openmusic.com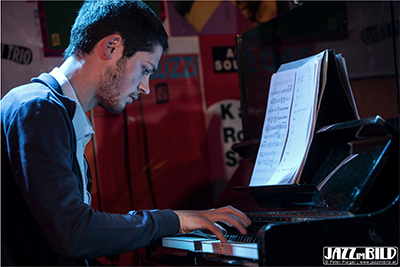 c Peter Purgar
-

15. 9. 2019
Tree
Radiosession Ö1



-

14. 9. 2019
Wolfgang Pointner & Georg Vogel
Take the A-Trane Festival SBG
-

9. 2019
Studio + GEOGEMA
-

12. 8. 2019
TREE
Georg Vogel: Klavier, piano, Glawia
Andreas Waelti: Kontrabass, bass
Michael Prowaznik: Schlagzeug, Dsaegl
Villa For Forest, Klagenfurt
Viktringer Ring 21
20:30 Uhr, 8.30 PM, Hoewa Naene aoffd Nochcht
innenhofkultur.at
-

10. 8. 2019
TREE
Georg Vogel: Klavier, piano, Glawia
Andreas Waelti: Kontrabass, bass
Michael Prowaznik: Schlagzeug, Dsaegl
Zwe, Wien
-

30. 6. 2019
Dsilton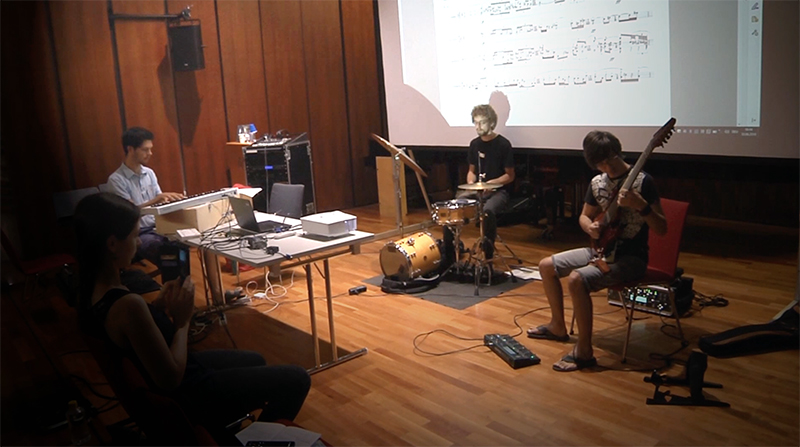 Lecture-Recital @ Symposium
,Mikrotöne: Small is beautiful' der International Ekmelic Music Society
Universität Mozarteum Salzburg
Bösendorfer Saal
16:30 Uhr, 4:30 PM, Hoewa Fimmfe



Presenting the instruments of the ensemble Dsilton, the 31-tone keyboard M-Claviton & an 8-string 31-tone guitar, the repertoire & techniques of improvisation in 31-EDO



Navigation through 31EDO using
ut-re-mi-fa-sol-la on a split-keyed instrument - An overview on transposing tetrachords in 31EDO on an enharmonic keyboard with split sharps (and flats). Compound tetrachord groupings will appear in different shapes by adding leading notes or altered intonations via the enharmonic change.
By using the newly developed 31+5 tone keyboard M-Claviton by
Georg Vogel and the 8-string 31-tone electric guitar of David Dornig various compositions and frames for improvisation are going to be exemplified.
-

26. 6. 2019
TREE
A L B U M - R E L E A S E
Georg Vogel: Klavier, piano, Glawia
Andreas Waelti: Kontrabass, bass
Michael Prowaznik: Schlagzeug, Dsaegl
Porgy & Bess Wien
20:30 Uhr, 8:30 PM, Hoewa Naene




01 DHAU - Georg Vogel
02 F.B. - Georg Vogel
03 NYPPVT - Andreas Waelti
04 Hannes - Georg Vogel
05 Between a Rock and a Hard Place - Andreas Waelti

Release May 2019 / Boomslang Records



-

2. 6. 2019
Interview Ö1-Jazznacht
M-Claviton Live @ RKH 2019
-

31. 5. 2019
Raumklavier-Festival
SOLO
M-Claviton &
Rio Mäuerle´s Raumklavier
Salzburg, Fabrik BBK 600
Schallmooser Hauptstraße 85A,
19:00 Uhr, 7 PM, Sime aoffd Nochcht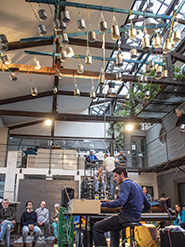 c Harald Gaukel

9. April 2019
TREE
Alter Schlachthof Wels
-

16. 3. 2019
MAX NAGL 5
+ Max Nagl, Martin Eberle, Philipp Yaeger, Gregor Aufmesser
Bluetomato, Wien
-

21.-22. Februar 2019
Georg Vogel @ Creative Jazz Clinic Velenje February 2019
Concerts & Lecture
-

Announcement:




-

8. Februar 2019
CD-Release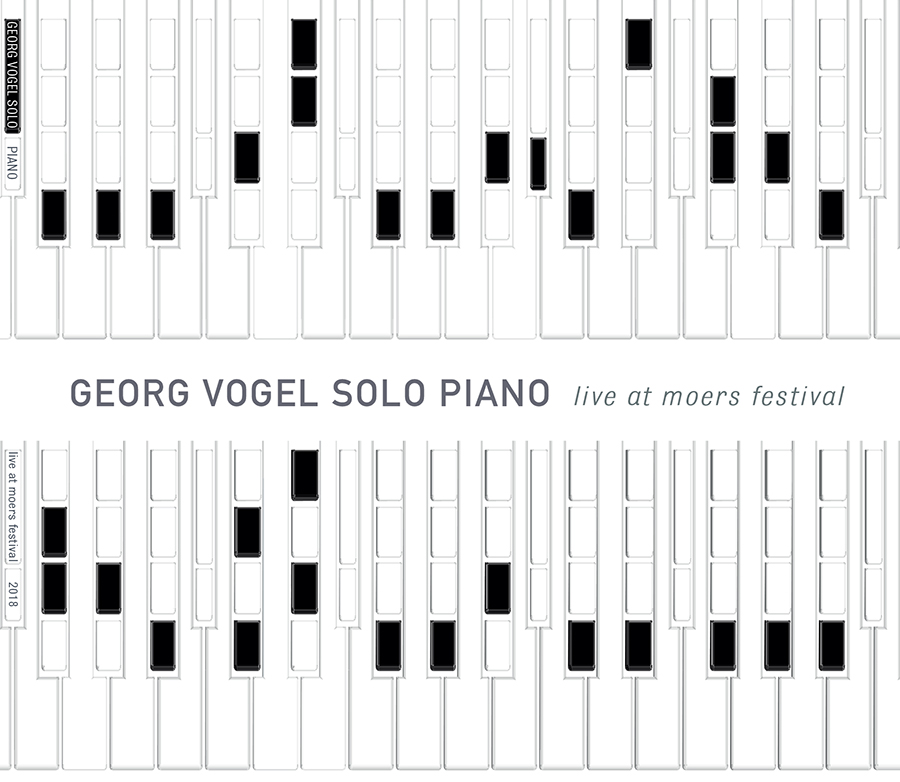 M-Claviton SOLO
Präsentation eines neuen M-Claviton Instruments ////// Presentation of a new M-Claviton Instrument ////// Praesentation fo am naechng
M-Claviton Instrument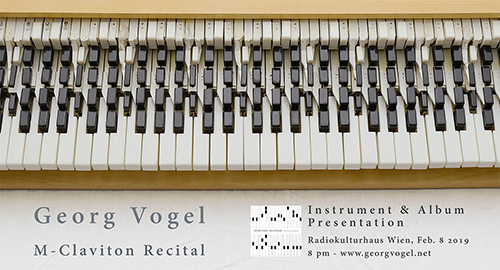 RadioCafe,
Radiokulturhaus Wien
Argentinierstraße 30a
20:00 Uhr //// 8 PM //// Ochchde aofd Nochchd










-

4. Februar 2019
GeoGeMa
Gerald Preinfalk: Altsaxophon
Georg Vogel: Keyboards
Matheus Jardim: Drumset
7*Stern
Siebensterngasse 31, Wien
20:30 Uhr
-